I am so excited to introduce my very first Total Language Connections Interactive Notebook!!!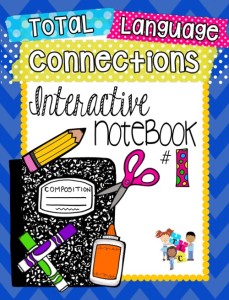 This interactive language notebook pack incorporates a variety of skills and strategies that are curriculum-based. This year our school made a list of strategies that are considered non-negotiable when instructing our students. Some of the things we listed include: cross-curricular writing, academic vocabulary, work binders/notebooks, differentiated instruction, meaningful homework/practice. This set allows me to accomplish all of that during my therapy and intervention sessions
The activities created in this interactive notebook include language and vocabulary skills in the 1st and 2nd grade curriculum maps in my school district. However, I'm sure you will find that many activities are universal. Blank templates have been included so you can adapt this to fit specific curriculum targets your kids have.
These activities are meant to take 15-20 minutes so that you have time to incorporate a game into your session (which is what I do). However, depending on the students, you may end up work on an activity for an entire session (or two). The goal is for students to learn and apply curriculum-based skills that they can generalize to the classroom.
Skills Targeted:
High frequency words
Identifying nouns
Using action verbs
Using adjectives
Sentence structure
Categorization
Defining/describing words
Antonyms
Multiple Meaning Words
Context clues
Alphabetical order
Like the idea of having an interactive notebook for your students, but worried that all the additional printable pages are too much to print and made be less efficient and costly? Then try this! You can work on the same activities with this NO-PRINT VERSION. All the skills and activities in the printable notebook are also available as a NO-PRINT. Just display this NO-PRINT on a tablet, computer, Smart Board or other screen and have students complete the same activities in their interactive notebooks.
EVEN BETTER!!! If you purchase the September 2015 Language Club Membership, you'll get this product as one of your 4 sets in the club pack!!! Make sure to check out the club!