Working with upper elementary students on language skills is always a fun challenge for me.  I am constantly trying to figure out the best way to meet my students' language needs while trying to keep up with the pace and complexity of our curriculum.  Recently, I learned about this vocabulary intervention program and I decided to give it a try.
Vocabulary Surge is a vocabulary intervention program to help students learn word parts and how they impact meaning.  This program is meant to be a daily 15-minute intervention, so I clearly have put my own spin on the lessons to accommodate my therapy sessions, which are only 1x/week.  But what I like about the program is that it gives me an idea of how to organize and teacher word parts to my students, beginning with the most common word parts – compound words.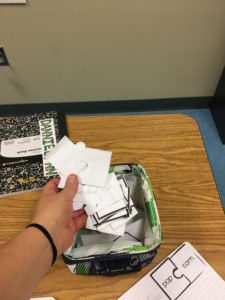 After two weeks of review the lessons and trying to decide the best way to implement these ideas in therapy, I finally put my plan to action last week.  Using puzzle piece clipart, I made a variety of compound word parts.  I had student cut out all the puzzle pieces and place them in a basket.
Students pulled out several pieces and tried to build compound words from the puzzle pieces they had.  If they successfully created a word, they glued their word to their interactive journal and wrote a definition for the word.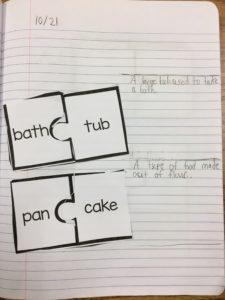 To celebrate my successful start to this new plan I have for my upper elementary students, I have a FREEBIE for you to enjoy! Click here to download a copy of my compound word puzzle pieces so you can try this with your students.
Vocabulary Surge is available as a reasonable price on  http://www.95percentgroup.com/products/vocabulary-surge.  I strongly encourage you look into this program, not just for therapy but as an intervention tool that teachers can use with their students.  Remember, the more we can support RtI, the more we can support vocabulary development and prevent students needing direct speech-language services.  That is an ALL-AROUND benefit for students, teachers and SLPs!