Hi everyone! It has been awhile!!! But it's because I've been hard at work on a huge project – my very first WEB APP!!!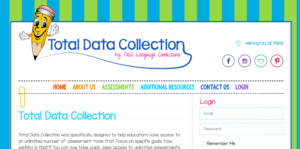 Total Data Collection was specifically designed to help educators have access to an unlimited number of assessment tools that focus on specific goals. How exciting is that?! You can now have quick, easy access to unlimited assessments that you can use to:
– Progress monitor IEP goals
– Track performance and progress to determine if your student is responding to current interventions in place
– Obtain additional pre/post assessment data on specific skills for lesson planning
– Review and practice skills with the entire class
These assessments can be used to track progress using a consistent format. Because the assessments are generated using criteria that you set (and randomized from a large database), you can ensure that the assessments created will always pull the specific words you need in a random order. Once you are finished testing, you will receive results (percent correct format) that you can record and track each time you assess. This allows you to compare results and monitor progress quickly and easily.
The Phonics/Decoding assessment is up and running. There is a FREE sample version that you can try out. If you are interested in purchasing this app, you can do so at an INCREDIBLE DISCOUNT!!! ONLY $14.99 for LIFETIME access!!! This discount is only available for a limited time.
Please feel free to contact me with any questions you may have. I would love to make sure to continue to build and upgrade this app to make it as effective and useful for you as I can!